German FOERSTER magnetic flux leakage inspection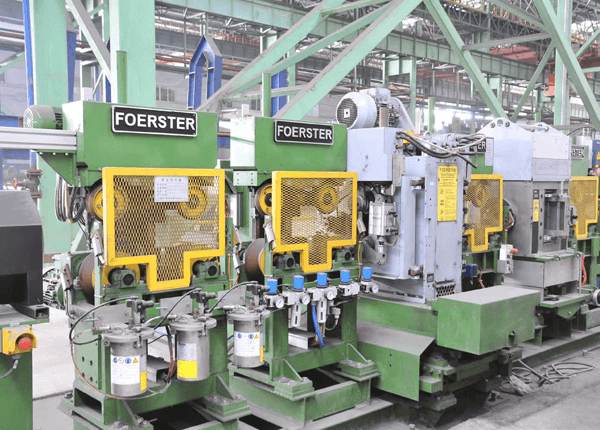 Applications of magnetic flux leakage methodin the detection of seamless steel tubes: ROTOMAT + TRANSOMAT.
Detection principle of longitudinal magneticflux leakage ROTOMAT:
Inspectionof longitudinal defects on the inner and outer walls of steel tubes;
Circumferential magnetization;
According to the detection of the applicationof the choice of probe array - inductance probe.
Detection principle of transverse magneticflux leakage TRANSOMAT:
Inspectionof transverse defects on the inner wall and outer wall of steel pipe; LongitudinalDC magnetization;
Selectionof probe array in accordance with the application of detection - inductanceprobe.
Longitudinal magnetic leakage device rotatinghead:
Suitable for outside diameter of steel pipe : 20~520 mm
Transverse magnetic flux leakage probe system:
Suitablefor outside diameter of steel pipe: 26~440 / 480 mm
Longitudinal magnetic leakage ROTOMAT rotatinghead system:
• Narrow body design, 700 mm wide, easy to integrateinto existing production lines
• High speed increases detection speed
• Interchangeable test assemblies acceleratethe speed of replacement
Transverse magnetic flux leakage TRANSOMATprobe system:
•Narrow body design, 670 mm wide, easy to integrate into the existing detection
line
• The use of interchangeable test componentsensures a shorter time to change the
specifications